We're conveniently located in the Lower Mainland area, with over 20 locations to serve you. Our dedicated team understands that better sleep leads to better energy and focus, while poor sleep quality impacts every aspect of your life. Our primary goal is to provide our patients with a chance for real change through improved energy, sleep, and quality of life.
At Your Service For Life
What To Expect At Your Visit?
There are a variety of successful treatments for sleep apnea including CPAP therapy and oral airway appliances. Our sleep health care professionals are trained. We are here to support your sleep apnea treatment to ensure your health improves and you re-discover a good night's sleep.
Once you have booked your no-charge in-person or virtual care initial consultation appointment, your journey to re-discover a good night's sleep begins.
TYPE OF SLEEP STUDIES AVAILABLE?
Sleep studies procedures include both unattended sleep monitoring and attended polysomnography. There are 4 different types of sleep studies. Each level varies in what they monitor and test for, as well as where the test takes place. So, what are these differences, and more importantly, which level of sleep study is right for you? Let's compare!
SLEEP STUDY LEVELS COMPARISON CHART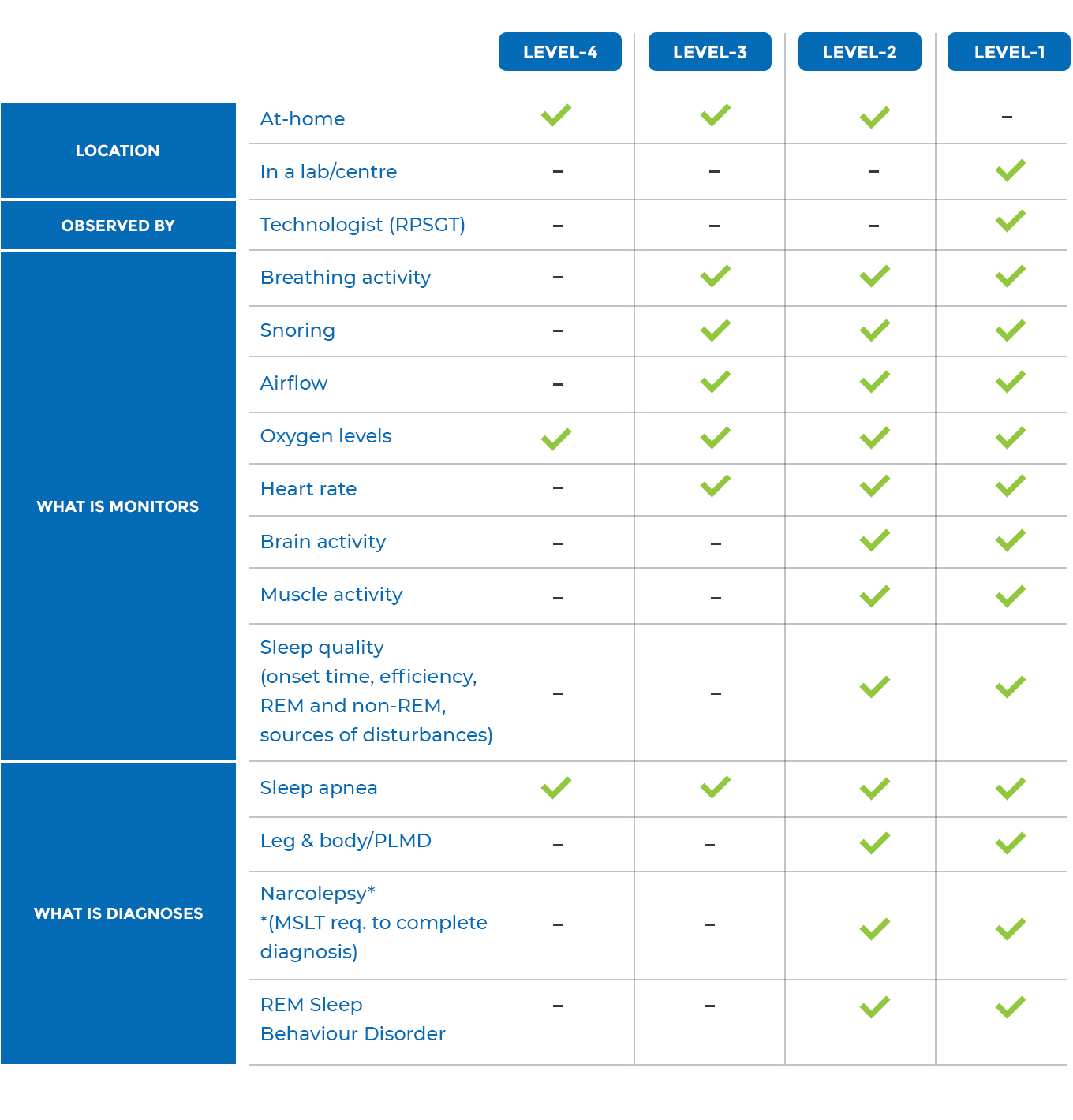 WHAT OUR PATIENTS ARE SAYING
At SleepWorks Medical, we take pride in how many patients we've been able to help overcome snoring and sleep apnea so they can re-discover a good night's sleep. Watch some of our satisfied patient's success stories and find out how we took great care of them and exceeded their expectations.
Book Your Free Sleep Consultation
Take the next step. Book an appointment or take the FREE sleep assessment test.
Contact us today to speak with a SleepWorks Medical Sleep Therapist
 to learn more about Sleep apnea and the treatment options available to you for FREE!